Best Shepherd's Pie Recipe And The Best Pie Dish to Buy.
Shepherds pies cooked in a pie dish are visually comforting. When it comes to eating a proper home cooked meal, shepherds pies sit at the very top of the list!  Sitting in the comfort of your home with a freshly cooked, piping hot shepherds pie and a sneaky glass of red wine is just what you need after a long day at work… Don't forget your pie dish to assemble it in!
Having a simple and quick recipe to go by is perfect for the days you want a home cooked meal in a flash.  Often this dish is cooked using both ground beef and minced lamb, but it can easily be turned into a vegan dish too by using quorn mince and cauliflower mash.  Some of the other main ingredients include onion, garlic and mixed vegetables.  See below for a full list of ingredients and instructions.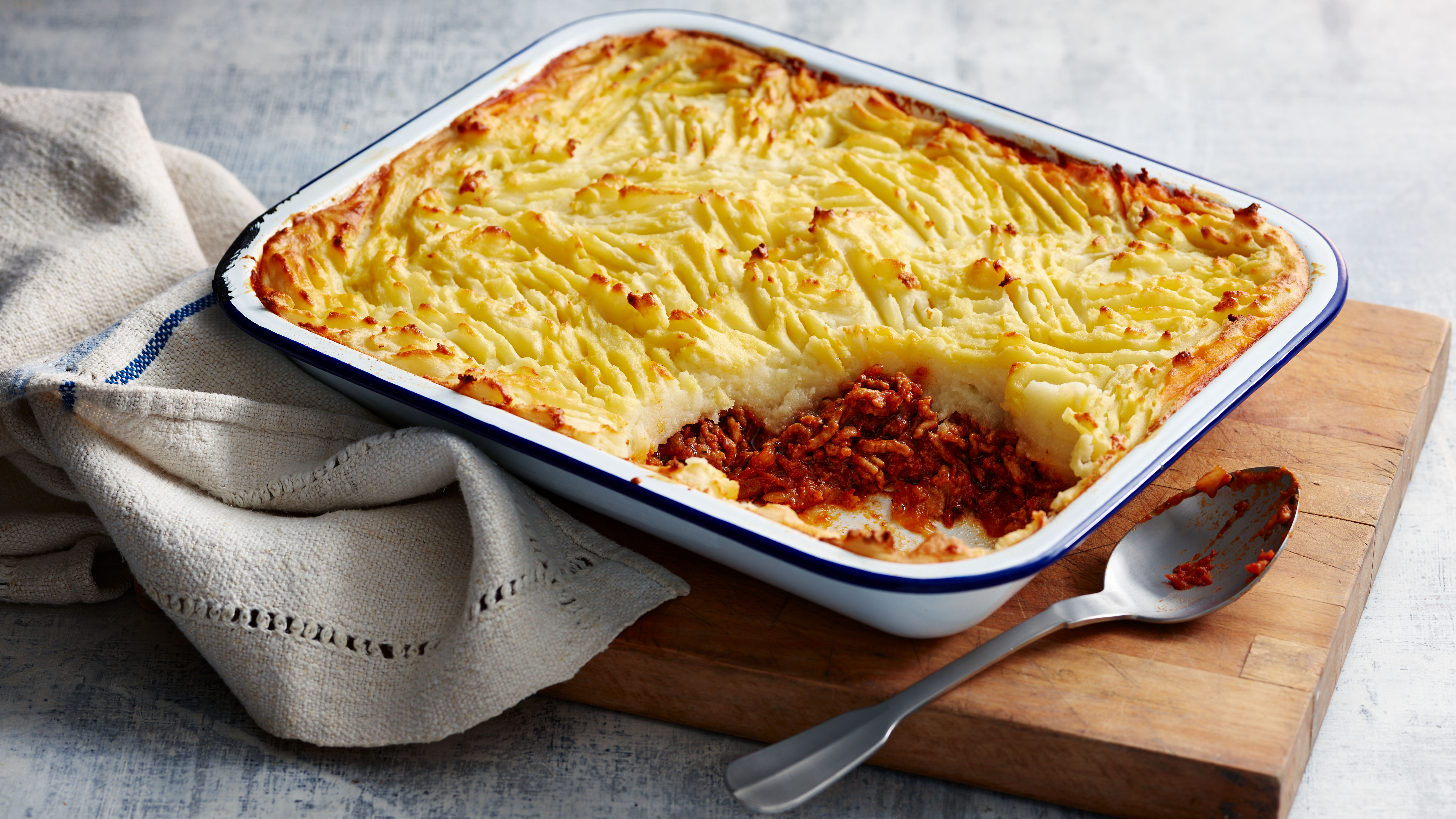 Use the perfect pie dish to build your pie…
Having the perfect pie dish to make your pie in is something that makes the whole pie making task much easier.  The Porcelite pie dish is available in many sizes and shapes.  It also comes in several different materials like enamel and porcelite.  And at only £4.99 excl tax, thats a dish worth getting!
See below for the perfect serving dish.
Shepherds Pie Recipe, Utensils and Ingredients.
INGREDIENTS FOR THE MIXTURE: 1 lb Ground Beef, 1lb Minced Lamb, 2 tbsp all purpose flour, 2 cups frozen peas/sweetcorn, 1 tsp thyme, 3 gloves of garlic, Extra virgin olive oil, 1 large onion finely chopped, large splash of Worcester sauce, 2 tbsp tomato puree, 3 carrots roughly chopped and 1/2 pint of chicken stock.
INGREDIENTS FOR THE POTATOES: 2 lbs boiled potatoes, 4 tbsp melted butter, 1/2 cup milk, 1/2 cup single cream, 2 tbsp sour cream, salt and black pepper.
KITCHEN TOOLS AND UTENSILS: Enamel Pie Dish, Non-stick cooking pot, chopping board, large knife, potato masher, nylon mixing spoon, speed peeler.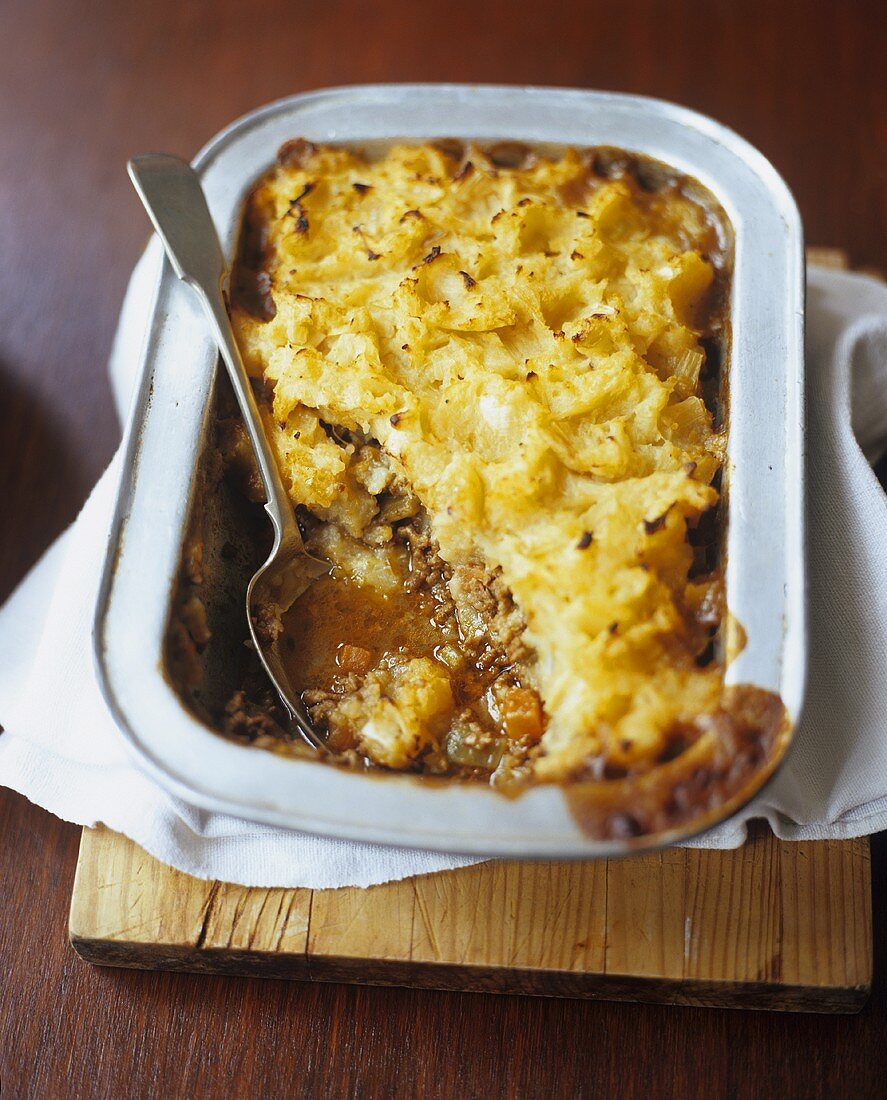 RECIPE: (1) FOR THE POTATOES: Preheat oven to 420 degrees.  Start off by boiling the potatoes in a large pan, don't forget to add a generous amount of salt to the water.
Once the potatoes are boiled, drain them and mash them with a potato masher.  Then slowly add all of the liquids (sour cream, milk, single cream and melted butter) and bind it together.
Add salt and pepper according to your taste preference.
(2) FOR THE MIXTURE: Using a small amount of olive oil, add the roughly chopped carrots, garlic, all purpose flour and onions to the pot.
After 5 minutes of cooking on a medium to high flame, add a splash of red wine (cook until the alcohol has gone) and then add the ground beef and minced lamb, brown the meat until its 3/4 cooked through and add the frozen mixed vegetables.
Once the meat and vegetables are cooked, add the tomato puree, thyme, worcester sauce and chicken stock.  Let the mixture simmer for 10 minutes to allow the meat to absorb the flavours.
(3) READY FOR ASSEMBLY:  Once you have prepared the potatoes and the meat mixture, put all of the meat mixture into the pie dish.  Then slowly add the potatoes on top, spreading them out evenly.  Use the back of a fork to create lines on the potatoes.  Sprinkle a generous amount of grated cheddar cheese on top and put it back into the oven until the cheese is golden brown… Once cooked, enjoy with a glass of red wine.
If you would like to purchase any of the tools or utensils shown in this post, please click on this link www.hnrcateringsupplies.co.uk or contact us on 0121 707 3025.